Information for front-line staff to adopt community-centred ways of working that help improves the health and wellbeing of the most marginalised communities | Public Health England
Evidence shows that community engagement interventions have a positive impact on a range of health outcomes across various conditions. Recent NICE guidance on Community Engagement signals the importance of working in partnership with local communities to plan, design, deliver and evaluate health and wellbeing initiatives.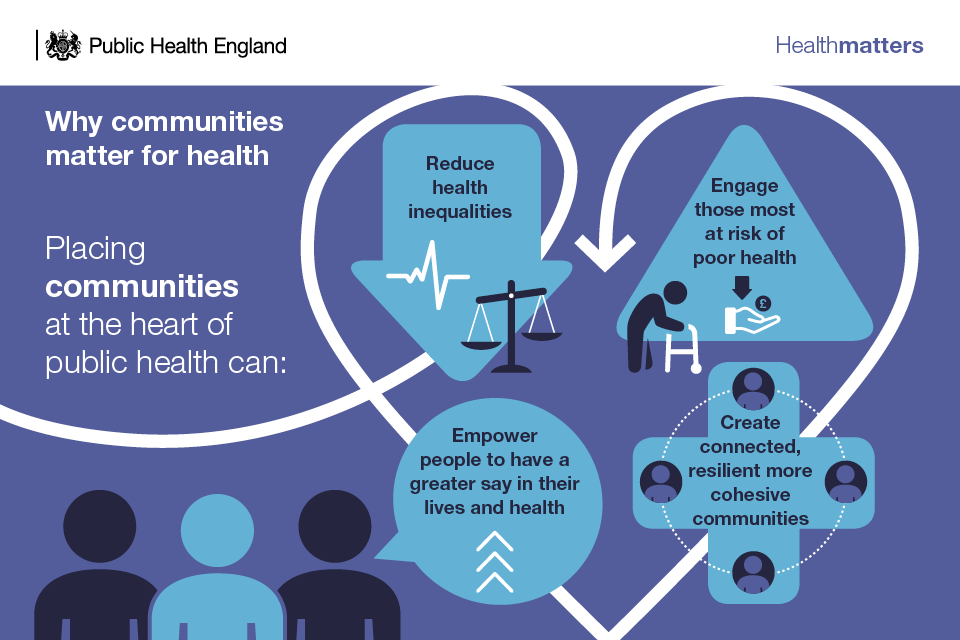 For the NHS, the Five Year Forward View highlighted the need to 'fully harness the renewable energy of communities' as part of a greater emphasis on prevention. The community contribution of volunteers and residents active in their neighbourhoods is also important for local government.
From a public health perspective, involving people in volunteer and peer roles can help strengthen social networks and offers a means to access and connect with groups at risk of social exclusion.
This resource aims to help health professionals prevent ill health and promote wellbeing as part of their everyday practice. It includes guidance on:
adopting community-centred approaches in a professional practice
understanding local needs
measuring impact.
Full guidance: Community-Centred Practice: Applying All Our Health | Public Health England